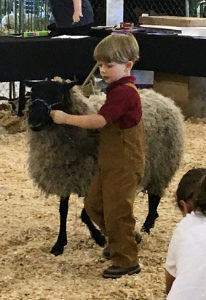 Gotland sheep originate from the small island of Gotland, set in the middle of the Baltic Sea, off the coast of Sweden. One of the Northern short-tailed breeds, their bloodlines date back to the Viking era. Since 2003, there has been an upbreeding program in the United States to establish this lovely breed of sheep in North America.  
We invite you to explore the GSBANA website to learn more about the work of our association, the history and breeding of this amazing breed of sheep, and what our members have to offer.
WHY RAISE GOTLAND SHEEP?
Gotland sheep have many unique characteristics which make them an excellent choice for both large commercial flocks as well as small family farms. Gotlands are:
easy to lamb, have a high lambing rate, produce abundant milk and have strong mothering instincts.
very inquisitive, making them an entertaining breed to own.
a hardy breed and adaptable to a variety of management systems.
a relatively small breed making them an ideal small farm livestock option.
naturally hornless & short tailed.
friendly, calm and non-flighty making them the perfect choice for children and families.
a breed of sheep with one of the most lustrous & silky fibers making them a favorite among hand-spinners and fiber artists.
not prone to wool discoloration due to sun exposure.
prized world-wide for their lovely pelts.
a dual purpose breed with mild, flavorful meat.