Descended from Gutefår Sheep
It is believed that Gotland sheep are descendants of flocks first established on the Swedish island of Gotland during the Viking era. Gotland sits in the middle of the Baltic Sea, and was a thriving trading center for the Vikings, who transported sheep during their expeditions. The northern most tip of Gotland, Fårö Island, is home to the native breed of Gutefår (Gute sheep), whose bloodlines date back to the Vikings.This hardy landrace breed of sheep formed over time by its natural surroundings, grazing up to the water's edge on scrubby juniper, pine, and wild thyme, and drinking sea water, which is much less salty at that location than in more southerly climes.  Both Gutefår rams and ewes have horns which majestically curl about their clean faces. Their legs and bellies are free from wool, and faces have that characteristic white nose and white circles around their eyes.
Many of the modern European short-tailed breeds of sheep descended from the Gutefår, the modern day Gotland being one of them. Legend has it that the Gotland breed, as we know it today, began with one farm in the early 1920's. Shepherds wanted a breed of sheep with no horns and a higher quality fleece. This particular farmer saw a ram on the train headed for slaughter. He liked the looks of the ram, and pulled him off the train, and bought him right there. He used this ram to cross breed to his Gute sheep and began selecting and breeding for polled sheep and the characteristic curly gray fleeces of the Gotland Peltsheep (pälsfår)  or modern Gotland sheep.
Pälsfår-The Modern Gotland Sheep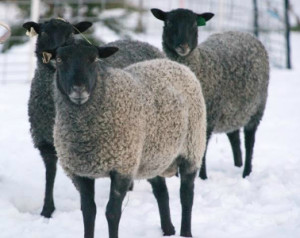 Today, Sweden has the largest populations of Gotland sheep with flocks of up to 600 ewes on Gotland Island. Purebred Gotlands are also found in New Zealand, Australia, and several European countries. Gotland sheep are fine-boned and of medium size. Gotlands are polled and have no wool on their black heads and legs. There may be white markings on the top of the head or around the nose and mouth. They have alert medium sized ears that stand outwards with a small neat muzzle, an even jaw and even teeth. Their slender neck and shoulders set smoothly into a level back with good depth and reasonable breadth of body. The slender legs are well spaced and upright. The tail is short with a hair covered tip. The fleece is fine, long, lustrous and dense and can be all shades of grey from silver to charcoal grey and dark enough to be almost black. They have a clearly defined even curl (purl) and staple that is soft to the touch. Their disposition is docile and friendly. The fleece is typically 29 to 34 micrometres in diameter. Lambs wool can be in the low to mid 20's micrometre range. The fleece is prized in the United States by handspinners. In Europe they are most desired for their pelts.